Mount Pulaski kicks off 175th anniversary celebration
(1836-2011)
Send a link to a friend
[January 03, 2011] MOUNT PULASKI -- Mount Pulaski paid homage to 2010 and cheered in the year 2011 with a lighted-ball drop, fireworks, music, entertainment, food and refreshments on the town square. Two $175 drawings were conducted, one by the Mount Pulaski Farmers Bank and the other by the 175th Anniversary Committee. The two winners were announced in front of the courthouse steps just before the midnight ball drop and fireworks display.
A list of Mount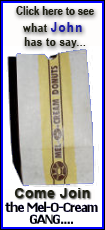 Pulaski residents and former residents who died during the year 2010 was read, with each name receiving a loud gong strike of the old schoolhouse bell that once was placed in the courthouse belfry. This large bell is now displayed in a wooden open-air hutch on the south side of the courthouse property.

The building was the schoolhouse for grades one through 12 in Mount Pulaski from 1857 to 1878, after the courthouse lost its county seat activities of 1848-1855 with the results of the election of 1853. (It was two years before the actual transfer to the new Lincoln venue took place, due to litigation by the city of Mount Pulaski.) Names of some of the known students from the courthouse school days are displayed beneath the bell.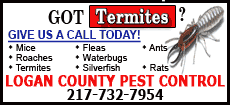 Following the recitation and gonging of names of the deceased, a moment of prayer was conducted by Darrel Wernsing. Then the 175th Anniversary Committee served soup and sandwiches in the Veterans of Foreign Wars Hall for a good-will offering.
Pizza Man and Buff's Restaurant were open for dinner, with music and entertainment following at the Mount Pulaski Museum, VFW Hall and Buff's Restaurant.
The Illinois State Historic Site Courthouse and Mount Pulaski Historical Museum were open for refreshments and tours. Children's activities were provided by the First Christian and Zion Lutheran churches.
Tickets for the Mount Pulaski "Distinguished Alumni & Citizen Awards" program at the Abraham Lincoln Presidential Museum in Springfield this summer were on sale at various places around the square. The presidential museum has been reserved for the evening event on June 30. The tickets are $35, which includes hors d'oeuvres, drinks and access to all of the museum exhibits and shows.
Perhaps as many as 700 people, including many children, were in attendance at various times throughout the evening's activities. A New Year's Eve photo of the town's citizens was taken on the steps of the courthouse a few minutes prior to midnight.
Tom Martin serves as the chair of the Mount Pulaski 175th Anniversary Committee, which will be conducting additional events throughout 2011 to mark Mount Pulaski's 175th birthday.
Mount Pulaski was given its town status by the Sangamon County land office on July 5, 1836, before Logan County came into existence in 1839.
[Text from file received from Phil Bertoni]